03 July 2012
Octal CCDA Tube Types
I know that 99% of Octal CCDA users will opt for the 6SN7 as the tube of choice. And it is a good choice. There are other types worth checking out, such as the 8SN7, 12SN7, 12SX7, 18SN7, and 5692. I have been extolling the use of oddball heater voltage for a long time. A decade ago, you could buy a first-rate 8SN7 or 12SN7 for a few dollars, whereas the 6.3-volt version of the exact same tube sold for $50 to $100. No more. The word has gotten out and although 8SN7 tubes are still cheaper than 6SN7 tubes, but not by nearly as much.
The 12SX7 is great tube and it sells for about $30 today. It was designed to work under low B+ voltages, as found in aircraft. Building a relatively low-voltage octal CCDA, with a B+ of 120Vdc, would make a fun project. A 120Vac secondary will rectify up to about 165Vdc, which can then be reduced to 120Vdc by the RC filters on the PCB. The big advantage that this low B+ voltage offers is that the power-supply capacitors are much greater in capacitance at a 200V voltage rating, rather than at 400V.
The Chinese brown-base 6SN7 is fine little tube, which is why it is used in so many $5,000 tube preamps and power amplifiers. At $10 each, they are a bargain.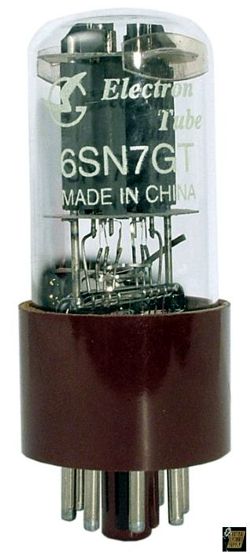 A 6SN7, unlike the 12SN7, requires more B+ voltage to sing. I used a 240Vac secondary, which rectified up to about 330Vdc after the rectifiers, which fell to 260Vdc at the tubes. Since the triodes in the CDDA circuit see half of the B+ voltage, each triode sees 130V from its cathode to its plate. With the 22k plate and cathode resistors that I used, the plate dissipation is only 0.75W and the idle current for each triode is a tad less than 6mA.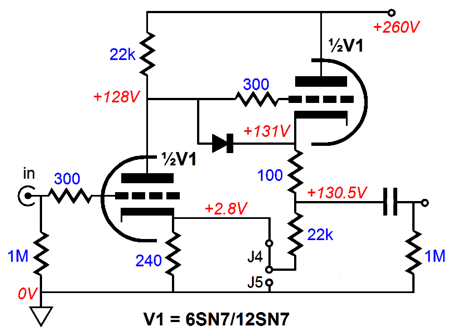 I used the same positive feedback arrangement that I used in my Tetra Sans PS and Noval CCDA, so the signal gain came in at +23dB (or 1:14). And once again, I am hearing the same spritely sound that the Noval CCDA with positive feedback produced. And once again, this CCDA is dead quiet.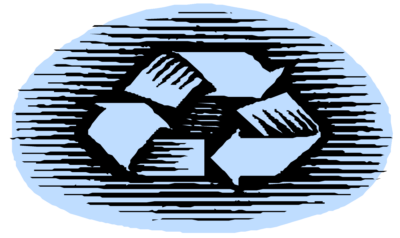 The only thing that I don't like about the octal version is the height of the tubes, which makes placing this CCDA in a 3-inch tall enclosure impossible. On the other hand, this CCDA would look great with the tube protruding from the chassis. How is that possible? I have placed redundant regulator pads on the bottom of the PCB, so all the parts, save for the tube sockets, can be placed on the bottom.
The Rev. A Octal CCDA PCB and kits are available at the GlassWare/Yahoo store now.
Next Time
More tube circuits, more PCBs.
//JRB

E-mail from GlassWare customers:
Mr Broskie,

I bought an Aikido stereo line stage kit from you some days ago, and I received it just this Monday. I have a few things to say about it. Firstly, I'm extremely impressed at the quality of what I've been sent. In fact, this is the highest quality kit I've seen anywhere, of anything. I have no idea how you managed to fit all this stuff in under what I paid for it. Second, your shipping was lightning-quick. Just more satisfaction in the bag, there. I wish everyone did business like you.

Sean H.
And
Hi John,

I received the Aikido PCB today - thank you for the first rate shipping
speed.

Wanted to let you know that this is simply the best PCB I have had in my hands, bar none. The quality is fabulous, and your documentation is superb. I know you do this because you love audio, but I think your price of $39 is a bit of a giveaway! I'm sure you could charge double and still have happy customers.

Looking forward to building the Aikido, will send some comments when I'm done!

Thank you, regards,
Gary.
High-quality, double-sided, extra thick, 2-oz traces, plated-through holes, dual sets of resistor pads and pads for two coupling capacitors. Stereo and mono, octal and 9-pin printed circuit boards available.

Designed by John Broskie & Made in USA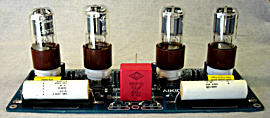 Aikido PCBs for as little as $20.40
http://glass-ware.stores.yahoo.net/
---
Only $12.95
to keep track of your
tube and part collection
TCJ My-Stock DB
TCJ My-Stock DB helps you know just what you have, what it looks like, where it is, what it will be used for, and what it's worth. TCJ My-Stock DB helps you to keep track of your heap of electronic parts. More details.
Version 2 Improvements
List all of your parts in one DB.
Add part Images.
One-click web searches for part information.
Vertical and horizontal grids.*
Create reports as PDFs.*
Graphs added 2D/3D: pie & bar.*
More powerful DB search.
Help system added.
Editable drop-down lists for location, projects, brands, styles, vendors and more.
*User definable
For more information, please visit: